About CourageLit
Natalie Totire Brinley, gifted artist and writer, is the founder of CourageLit Books, and this site was first launched in July of 2016 with the new name and logo. The site before that was called NTCreations. Paul Brinley is helping to support this ministry and business.
Special thanks to the DuPage Writers group, friends from the Lively Arts group,and the Wheaton Religious Gift and Church Supply, Midwest Creation Fellowship, Evangelical Church Library Association, Kensington School Administration, and the Morton Arboretum for their support.
Natalie's Testimony:
Natalie grew up near Cleveland, OH in a secular school and setting, trying hard to fit in with the crowd and deal with bullying. Planning on becoming an artist, she took general high school classes and Graphic Design classes. She loved to draw animals especially and hang out at the library, borrowing picture books on birds and mammals. Her mother brought her to church, but she was not as interested in church once she became a teenager. She was more interested in hanging out with and trying to make friends, but they pressured her into making unwise choices. One day, while still attending high school, the Lord spoke to her heart and said, "If you really love Me, you would not follow the crowd into doing what is wrong." So around 1987, she asked for forgiveness and asked Jesus to take over her life, believing, as found in John 3:16: "For God so loved the world that He gave His only begotten Son, that whoever believes in Him should not perish but have everlasting life." (NKJV). She began a relationship with Jesus and noticed the Lord changing her from the inside out. She had fullness and joy in her heart as never before, so she found strength to withstand teasing and bullying. The teasers noticed and eventually backed away. She began wanting to go to church and learning more about the Bible. This is not to say her faith did not have challenges in the following years, especially while her family watched many educational scientific TV programs and magazines that stressed Naturalism and evolution. Searching for a more solid foundation for her faith, she read and researched many books on what makes Christianity stand out from other religions and on Naturalism.
Natalie planned to become an artist, but felt is if the Lord was moving her into children's ministry. She obtained an Associate's Degree in Early Childhood Education from Waterbury, CT and a Bachelor's degree in Educational Ministries at Moody Bible Institute in Chicago. She lived in the Chicago area ever since. Feeling called to focus more on the media, she later took art classes at Triton College and College of DuPage. She designed and used puppets and taught art on mission trips, beginning with her internship from Moody Bible Institute. She painted murals on the school walls in Bolivia and at a Children's Home in Guatemala. In 2004, she joined the DuPage Art League in Wheaton, IL, and received six merit awards and two special merits for her framed art and photography.  She is also a member of the Society of Children's Book Writers and Illustrators.  For over five years, Natalie airbrushed designs on t-shirts, painted portraits, and created greeting cards, but her main passion was creating children's books, with the emerging of "The Littlest Donkey", first printed in 2006.
Meanwhile, Natalie invites you if you have questions about the Lord, theology, or any prayer concerns or book ideas you are longing to see, please send an e-mail or facebook contact (above).
How the Book Processing Continued:
Later, Natalie illustrated 13 books for different authors, including Pat Brannon, Stephen Goss, and Rosemary Calkins, who are also published on Amazon. Natalie wrote a few more of her own fiction books, but also had a growing interest to write nonfiction.
Natalie's continuing passion and jealousy to read books giving God glory as the Creator led her to write the Intelligent Design Series (not to be confused with the Intelligent Design Movement). These books are aimed at talking more about the animals presented in a Biblical perspective and framework rather than continually debating evolution. Natalie did the illustrations, the research, and the writing, and other writers helped her with the editing. The Philosophies supporting these books are backed up by Midwest Creation Fellowship.
Natalie taught Sunday School for many years, which led her to write the books "Father Abraham", "Noah, Elam, and the Ark" (undergoing revision), "The Littlest Donkey", and "The Boy Next Door". For four years, she worked together with Anne Marie Brinley at what used to be called The Wheaton Evangelical Free Church (now the "Compass Church"). In 2014, Anne Marie was suddenly called home, leaving behind her husband, Paul, and four daughters. Natalie recently got married to Paul Brinley in December of 2016, only five months after this website was launched!
Natalie has completed 25 books (not including variations) she both authored and illustrated which are also on Amazon and Kindle. She now has a Sunday School Resource Book, with hopes to work on more adult books and children's books dealing with difficult issues.. Natalie hopes to continue using her God-given gifts the way the Lord has intended.
About the logo: Bluebell, a real parakeet Natalie used to own. She was one of four birds that stood out as the leader, the go-getter of the flock. The little bird with the big personality continues to symbolize having a zest for living, but she also symbolized how ideas keep on coming. She is found in the devotional, "A Little Bird Taught Me".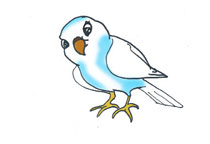 Natalie does custom work as needed, is flexible in her style of art and medium and knows how to meet the needs of the customer. See more detail under "Services".
Updates © 2020 by Natalie Totire Brinley.